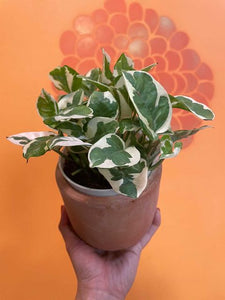 Epipremnum pinnatum 'N'joy'
Looking for a little foliage variation with low maintenance? Then the N'Joy Pothos is for you!
This plantita hails from several parts of China and Southeast Asia to the Australian tropics and can thrive with little maintenance.
The dark green and cream leaves thrive in bright indirect light with minimal watering. Water once a week or when the top layer (2 inches) of the soil dries out.
Note: decorative pot not included. Toxic to pets when ingested.