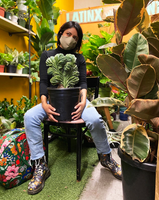 Community and Healing Through Plants
Latinx with Plants first bloomed March 23rd, 2019 out of admiration for the community @blackwithplants was cultivating and a desire to contribute towards the celebration of people of color in the plant world. Thank you to D'Real Graham for paving the way, opening the door, and welcoming us in.
While @latinxwithplants was mostly dedicated to sharing fun memes, plant inspo, and plant parent goals it grew to something we never could have imagined.
Read More
Plant Parenthood
Give the Gift of Plant Parenthood. Know someone who is feeling down? Know a plant parent itching to bring home more plant children? Need a present for someone but have no idea what to get them? Gift someone funds so they can purchase the plant of their dreams!
Purchase a Gift Card
Questions? We have answers!
We're here to help!! Bring us pictures of your plants or your plant itself for a consultation. We'll ask you all about your watering routine to where your plant lives. We can also help you repot your plants and guide you towards making the next plant adoption that works best for you.
Read More
Calendar
Check out our upcoming pop-ups, events, collaborations and more. We believe in the power of community. We believe in the power of collaboration. We know we MUST do our part. We love being able to highlight artists and business owners from our community while being able to contribute to different causes.
Upcoming Events
I was in the area the other day running some errands and decided to stop by. It's a fantastic little plant shop filled with so many options at reasonable prices. The people working here are friendly and helpful. I ended up going home with a rosemary plant and they gave me plenty of tips to help take care of it.

Katie C.
Super knowledgable about plants and clearly very much committed to supporting the mission of getting a plant into every home in the community.

Also such a cute, calming space. plants really do make everything better.

Cece S.
Beautiful selection of plants and pots along with great service. Loved everything about the experience and would highly recommend you pick up your new plant from this spot. Located in the heart of Boyle Heights, you're not far from yummy paletas and great Mexican food during your visit. Plenty of street parking and curbside pickup is also available.

Michell S.